back


















Suspendend fall.
By Marijke ten Caat


From a distance the wall-constructions made by Babette Kleijn resemble a tightrope act; where a thin straight line across the wall- slightly above the center of the wall- represents the horizon on which you try to keep your balance. The horizon acts as a resting point between two worlds that are not in balance with each other, but perpetually strive towards it. It acts as the structure that supports, diffuses and increases the total artwork. Each separate construction is made out of carefully orchestrated elements and despite the suggestion of heaviness through the use of dark colors and heavy materials, parts within the construction seem to float upwards. As if the materials transform within the work. It is like you are observing iron with a density of air or something.
Your eyes read the space. Jumping back and forth between parts of the work and its overall presence. When you zoom in you notice irregularities, flaws and microscopic small variations. From up-close the black painted circles remind me of the dancing pixels you see before your eyes when nightfall sets in. The nylon threads, with parts of it painted, remind me of a trembling snare when it looks like a smudged form of colors and stripes.
The constructions of Babette Kleijn are from nearby opposed to what you see from a distance. There is a contrast in its aesthetical distant beauty and its nearby chaotic complexity. You don't know if the work in front of you is unfolding or falling apart and it is that friction what keeps you alert while observing the artwork. As a result of this contrast you give yourself space to focus without turning in any space. In this inner expanded space a silence can arise.
When you look at something for the first time often a tendency appears to refer it something you've already seen. It puts your experience in a pre-fabricated mold, but maybe what you see isn't at all referable to that mold. Maybe the artworks of Babette Kleijn are more like a strange language where the constructions are signs that refer to a hidden side of the work. You know it's there, but you also know it is not possible to grasp it. It triggers your curiosity. It is this attitude towards observation what makes it an adventure, because in the act of observing it's impossibility is included: the impossibility to grasp or designate it in its entirety. That is not a loss, but an attainment.
Sometimes you have a conversation where a silence falls, because you don't know what to say, you don't have anything to say, or because it is just not necessary to say something. Often these silences in a conversation are experienced as uncomfortable and can evoke agitation, but that unease can also makes you more sharp or alert. When a silence falls in a conversation it is also a moment where things become undefinable. It is an expanded space where you can play.
When you look at the wall-constructions of Babette Kleijn you can observe with attention, without a direct framing of what you see in front of you. In the inner silence, you are suspended and in between things and the only thing you can rely on is yourself, and that is the dialogue between yourself and an artwork; a constant movement that moves towards or from you. So when you don't try to grab or analyze and when you stopped thinking, then observing can be like a horizon; where you become aware of the infinity of possibilities of a horizon that never comes any closer, but does give you a sense of direction.





















Stil vallen. Een uitnodiging tot avontuurlijk kijken. Tekst: Marijke ten Caat

Van veraf lijken de muurconstructies van Babette Kleijn op een koorddansact, waarbij een dunne lijn op de achtermuur de horizon is waarop je je evenwicht probeert te houden. De horizon als rustpunt tussen twee werelden die niet in balans zijn, maar daar steeds naar streven. Elk afzonderlijke constructie bestaat uit afgewogen elementen, maar ondanks de suggestie van zwaarte door kleurgebruik of door materiaalsoort lijken gedeeltes in de constructies omhoog te zweven. Ze transformeren; metaal krijgt het soortelijk gewicht van lucht, zoiets.
Mijn ogen springen door de ruimte heen en weer. Je leest het geheel en kijkt dan weer naar onderdelen in het werk. Bij het inzoomen zie je onregelmatigheden, onvolkomenheden, en microscopisch kleine variaties. Van dichtbij doen de zwart geschilderde vormen mij denken aan dansende pixels, die je om je heen ziet als het begint te schemeren. De strak gespannen nylon draden, waarvan gedeeltes geschilderd zijn, herinneren mij aan een trillende snaar wanneer deze een vage vorm van kleuren en strepen wordt.
De beelden van Babette Kleijn zijn van dichtbij tegenovergesteld aan wat je van veraf ziet. Er zit een contrast in de afstandelijke esthetische schoonheid van het werk en zijn nabije complexiteit. Je weet niet of het beeld voor je zich nu ontwikkeld of dat het uitelkaar valt. Die tegenstelling houd je aandachtig, waardoor je jezelf de ruimte geeft scherp te stellen zonder ruimte in te leveren. In de ruimte die daardoor onstaat, val je stil.
Wanneer je iets voor het eerst bekijkt ontstaat er vaak een neiging om dit te refereren aan iets wat je al eerder hebt gezien. Het plaatst je ervaring in een al vormgevormde mal. Maar wat je ziet is misschien wel helemaal niet refereerbaar aan die mal. Misschien zijn de beelden van Kleijn meer als een taal, en zijn de constructies tekens die verwijzen naar een verborgen kant van het werk. Je weet dat het er is, maar je weet tegelijkertijd ook dat je het nooit echt helemaal kan vatten. Het maakt je nieuwsgierig. Het is wat kijken zo avontuurlijk maakt, want in de act van het kijken ligt ook zijn onmogelijkheid besloten. De onmogelijkheid om iets volledig te kunnen grijpen of benoemen. Dat is geen verlies, maar een toename.
Soms heb je van die gesprekken waarin stiltes vallen, omdat je niet zo goed weet wat je moet zeggen, niets te zeggen hebt, of omdat het gewoon niet nodig is om iets te zeggen. Vaak wordt zo'n stilte als ongemakkelijk ervaren en roept het weerstand op, maar het ongemak maakt je alert. De stilte in een gesprek is zo´n moment waarin ook alles even ondefinieerbaar wordt.
Als je naar de muurconstructies van Babette Kleijn kijkt kun je dus observeren met aandacht zonder dat je een betekenis hoeft toe te kennen. In de stilte hang je in het luchtledige, tussen de dingen in, en kan je alleen nog maar terugvallen op jezelf. Wat daarin gebeurt is de dialoog tussen jou en het werk. Een constante beweging die naar- of weg- beweegt van. Op het moment dat je niet vat, niet analyseert en je de denkduivels bezweert hebt wordt het kijken als een horizon; waar je gewaar wordt van de oneindigheid aan mogelijkheden van een horizon die nooit dichterbij komt, maar één die je wel een gevoel van directie geeft.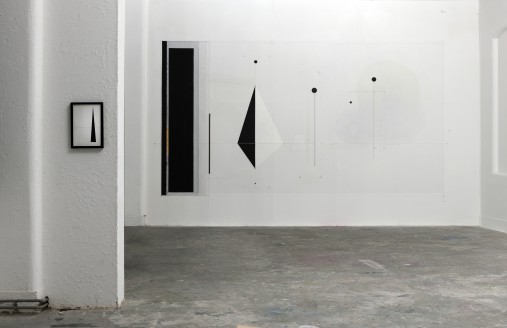 Fragment I, LeoXIII, Tilburg
Fragment II, Designhuis, Eindhoven